Cragside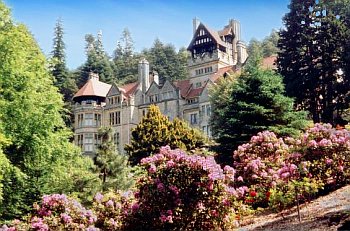 Cragside is a fascinating place. The House, a Victorian mansion, was the first in the world to be lit by hydroelectricity. The system was devised by the 1st Lord Armstrong and involved underground pipeworks connecting artificial lakes to the Power House. The magnificent 1,000-acre grounds feature woodlands, crags, lakes, huge stretches of rhododendrons, hidden waterfalls and such curiosities as the Iron Bridge (one of the world's first steel bridges) and the log Flume.
We usually visit Cragside for a weekend in the Autumn, after the House has been closed to the public, and stay in B&B's in the nearby village of Rothbury. Retiring to a pub together in the evening makes the weekend both a rewarding task and a great social occasion.
Our tasks here have included 'brashing', that is removing the lower branches of densely planted trees to allow foresters access to thin out weak specimens, rhododendron cutting (to prevent damage to a dam and to footpaths), and clearing birch growing where it was not wanted. Perhaps the best task, however, was rebuilding a badly degraded set of steps near the car park. Click here to read more and see photos of our handiwork!
Typical work done here
Meeting Point

denotes our usual meeting point.
View Larger Map