General Clearance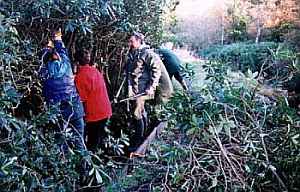 Although we like to think of ourselves as 'conservation' Volunteers, very often our tasks are destructive, as demonstrated by the lopper-wielding crew on the right. We removed the entire run of rhododendrons you see on the left of the picture. The reason for this was that the remarkably tenacious plants were growing on one of the dams on Lord Armstrong's Cragside estate and were starting to break up the stonework. Rhododendron lovers shouldn't worry too much, for Cragside has miles more of them which produce a breathtaking display in June.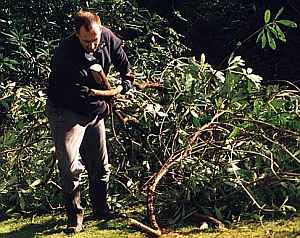 Each property we visit is waging an ongoing war against some species or other. At Brimham Rocks we try to keep the baneful bracken at bay, while at Hardcastle Crags our troops usually spend a summer task scything their way through head-high brambles. At Beningbrough Hall the foe is usually Himalayan balsam. It may be destructive, but without this work cultivated areas and footpaths would soon be overrun.
There are, of course, one-off clearing jobs too. If trees are felled in an area particularly difficult to reach, we help out by lending many hands to retrieve the logs. Sometimes heavy winds mean there is fallen wood to be moved at the Hall properties, and every summer there is the annual raking of the bank at East Riddlesden to remove cut grass.
Photos by M. Wilson