Fencing
Fencing is a task which crops up quite often at Hardcastle Crags and Beningbrough Hall. Fences are needed for a variety of reasons - for containing livestock, marking the boundaries of private land, or protecting areas undergoing revegetation from walkers. Sometimes rabbit-proof fences are needed to give young hedges time to develop.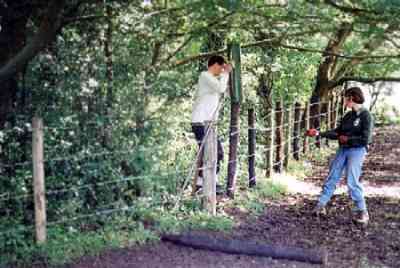 Photo by C. Fowler
The most common type of fence we build is a stock-proof tensioned wire fence like the one at Beningbrough pictured above. Every so often a large 'straining' post is set firmly in the ground while smaller posts provide support in between. This job usually involves such exotic tools as a 'drivall' for knocking in posts and 'monkey strainers' for tensioning the wire.
If a fence is only intended to guide the public away from revegetation areas a small, simple post-and-rail type fence is built.
As well as building fences, we are sometimes required to remove them - usually those which were erected temporarily to help regeneration or to provide stock proofing while dry-stone walls are rebuilt.