Footpath Repair & Maintenance
Obviously, well-maintained footpaths are very important in providing access for the public to enjoy the countryside safely. For this reason we repair or build footpaths at all of our properties at some time or other, however it is at the more exposed sites such as Brimham Rocks, Malham Tarn or Upper Wharfedale that this work is needed frequently.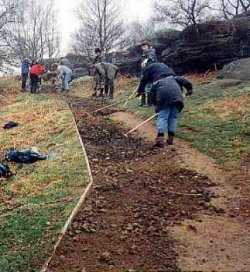 Here we see Volunteers repairing a rain-damaged path leading from the car park at Brimham Rocks. This path is particularly important as it is intended to allow disabled people access to the property.
There are various stages to rebuilding paths such as this. First the existing surface must be broken up with picks or mattocks to allow fresh hardcore to bind with the old. A layer of coarse hardcore is added to provide strength, then a fine top layer gives the required smoothness. The job is finished by rolling the path with a heavy roller.
The picture below shows the finished path.
Photos by C. Fowler
Related tasks
In addition to the path itself, we sometimes need to build supporting structures like handrails. This is particularly important for paths which cut across a slope.
If a path has to cross difficult terrain such as marshy ground or steep slopes, further measures are needed. Marshlands like those at Malham Tarn and Borrowdale feature rare plant species so footpaths in such areas are provided in the form of raised boardwalks which make public access easier, but also protect the environment.
Steep slopes obviously call for some form of steps, and this can be a challenging task if the ground is rocky or heavy clay. We're rather proud of the steps we built at Cragside, so they have their own page!