Planting
Planting is an important part of conservation, and over the years we have been involved in planting trees, shrubs, bulbs, hedges, herbaceous plants, grass, and even water lilies. A few years ago we were on frequent planting duty in the Orchard Garden at East Riddlesden Hall, which we helped to transform from a bramble-choked mess to a flourishing new feature. The photo below shows volunteers planting celandines.
Photo by M. Wilson
Along with the physical act of putting plants in the ground, there's a range of related tasks which are needed to protect new plants. For example, at Beningbrough Hall we planted a new hawthorn hedge along the edge of a wood and had to build a fence around it complete with rabbit-proof wire mesh to stop the young plants being nibbled to extinction before they were established. Similarly, new trees usually require some form of guard.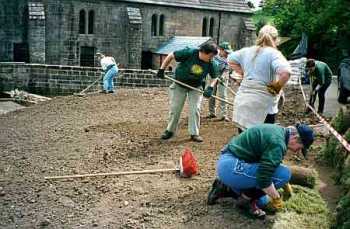 Photo by G. Thornton
Other plant-related jobs we've undertaken include weeding, pruning, leaf clearing, mulching, turf laying, soil improvement, building compost bins - really all the usual garden activities but on a rather larger scale!