Step Building & Repair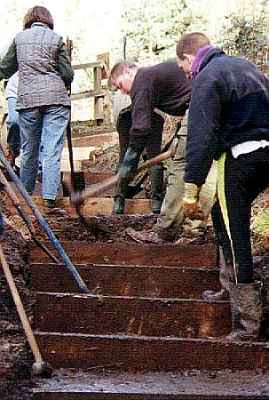 Photo by C. Fowler
This photograph shows a team of West Yorkshire Volunteers building steps on a weekend away at Cragside. As you can see the slope is quite steep and the ground is heavy, wet clay, so it's not a trivial job!
Steps usually consist of a wide board attached to two or three stakes which are driven into the ground. On the pictured steps the stakes are out of sight behind the planks, but you will also see them on the outside in some cases. This task is a good one for people who like working in a team, for there are several stages involved and when we get the timing right we can progress surprisingly quickly.
Photo by M. Wilson
It's always satisfying when we go back and see the fruit of our labours standing firm and looking good. The picture on the right shows the bottom section of steps a year after we built them. The surrounding vegetation has grown back well, and the steps look as if they've always been there!